Who is online?
In total there are
2
users online :: 0 Registered, 0 Hidden and 2 Guests
None
Most users ever online was
60
on Sun 22 Jun 2014, 3:32 pm
Social bookmarking




Bookmark and share the address of Sensual Posers on your social bookmarking website
"CEMETERY ACRES"
Supplies Needed

Awesome Scrapkit Friday Freebie "Because The Night" by Digicats which you`ll find
HERE
The password required to download the kit is Fangs a Lot! (including exclamation mark)
Tube of choice, I`m using Alex Prihodko which is ptu and can be purchased at Pics For Designs
HERE
  You will need a licence number to use her work
Open a transparent image 600 pixels by 600 pixels
Open paper 7.  On your canvas, selections - select all. Copy your paper and right click on your canvas, paste into selection. Selections - select none
Load mask WSL223, layers - new mask layer from disc - select your mask in drop down menu. Luminance checked, invert unchecked, click ok
Layers, merge, merge group. Then resize image to 105%
Copy & paste mesh 04 resized 75% and move up towards top of canvas, change opacity to 56
 Copy & paste mesh 01 resized 65% above mesh 04, change opacity to 80.  I dragged down a little here
Copy & paste Gate 2 resize 60% and drag down to position
Copy & paste brothers resize 40%, move to left of canvass and set opacity to 80%
Copy & paste mist , resize 55% and drag the layer down below the gates layer so the hooded part of the brothers are clearly visible.  Erase any excess mist showing under the left hand side of gate
Select the gates layer again and copy & paste Cemetery sign resized 17% onto the right column, setting opacity to 80%
Select the top layer again.  Copy & paste crow 25%, image mirror and place on top right column
Copy & paste dead bush 40% and place bottom left of column, duplicate, mirror and place bottom right column
Copy & paste cloak 80%, image mirror and place above bush on right column
Copy & paste streetlight resize 63% and place in front of left column.  Add inner bevel to brighten it.  
I used quarter circle bevel, width 8, smoothness 24, depth 4, ambiance -4, Shininess 32, angle 0, intensity 32, elevation 58 
Add your tube, resize if needed (I added mine very early on)
Adjust and sharpen all elements except for the brothers in background and tube
Finally, add drop shadow and font of choice

(I mostly use Vertical 0, Horizontal 5, Opacity 65, Blur 10)
Thanks for trying this tutorial, I hope you enjoyed it
Last edited by Jilly on Tue 17 Sep 2019, 8:57 pm; edited 6 times in total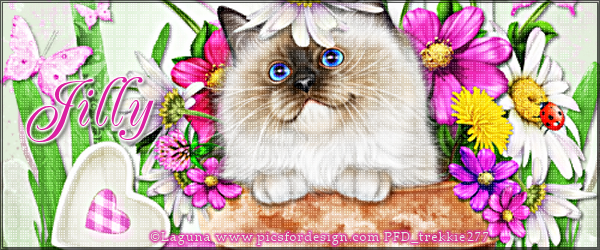 Yesterday's History, Tomorrow's a Mystery, Today's a Gift, that's why they call it the Present

Jilly

Δ∂мιи








---
Permissions in this forum:
You
cannot
reply to topics in this forum